We had the great honor on October 25th of last year to interview Peter Wright from Wrightslaw.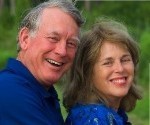 Pete is a pioneer in the area of Special Education Law and truly one of the ultimate child advocates in this country.  We had the joy of being able to host a Wrightslaw conference in 2008 and were stunned at not only the overwhelming response the conference received but also the great generosity that Pete showed in working with us and helping parents at the conference.
Unfortunately, this interview was one of the one's lost from the blog when our servers were hit last year with a series of unfortunate events.  So we've reposted the interview again for your learning and listening enjoyment.
The timing of this repost is fantastic because it just happens to coincide with the release of the top information shared on the Wrightslaw website last year.  So if you're new to Wrightslaw you've got a great outline to start your education below.  Of course, even if you're not new to Wrightslaw and Special Education Law you can't go wrong with the outline presented below either.
Stay tuned for an upcoming announcement regarding a soon to be announced Wrightslaw conference in the Detroit Metro area.
The Wrightslaw Top 10 Informational Articles From 2009
Hot Special Education Topics From 2009
Top 10 Education / Special Education Law Cases Discussed in 2009
Top 10 Blog Posts From 2009
Podcast: Play in new window | Download